Pre-Application for Public Housing (PDF)
WHO ARE WE?
Macoupin County Housing Authority is a municipal corporation formed in 1946 to provide decent, safe and sanitary housing to low and moderate income people in Macoupin County.
MORE THAN JUST PUBLIC HOUSING
We offer the following programs:  Credit Counseling, Homeownership Program, Family Self Sufficiency Program, Resident Opportunity Self-Sufficiency Program
AMENITIES AND SERVICES:
Your rent is based on income
Elderly Housing and Family Housing
Full Service Maintenance
Emergency Maintenance Services
Resident Services
3 Recreation Halls
Resident Meetings
Monthly Newsletter
Modernization Development
Stove & Refrigerator Provided
Carpeting available in elderly units
Air Conditioning available in all units
You have the opportunity to serve on a Resident Advisory Board (RAB) – Where you advise key issues such as how the Authority is managed; input on their policies and how funds are spent.
You can also be considered as a Resident Commissioner.
Areas Served:
Macoupin County Housing Authority owns and manages 280 apartments on nineteen locations in nine towns in Macoupin County, Illinois.
TOWNS SERVED:
Benld, Bunker Hill, Carlinville, Virden, Gillespie, Girard, Mt. Olive, Palmyra, and Staunton
CHOICE OF RENTS
You choose your rent either Income Based or Flat Rents.  Income based rent is 30% of your income minus utility allowance.  We offer medical deductions for elderly/handicap.  Working families, families seeking employment and families furthering their education are offered the child care deduction.
FLAT RENTS
One Bedroom    $390.00
Two Bedroom    $514.00
Three Bedroom  $706.00
Four Bedroom    $727.00
Most rents are considerably lower than above.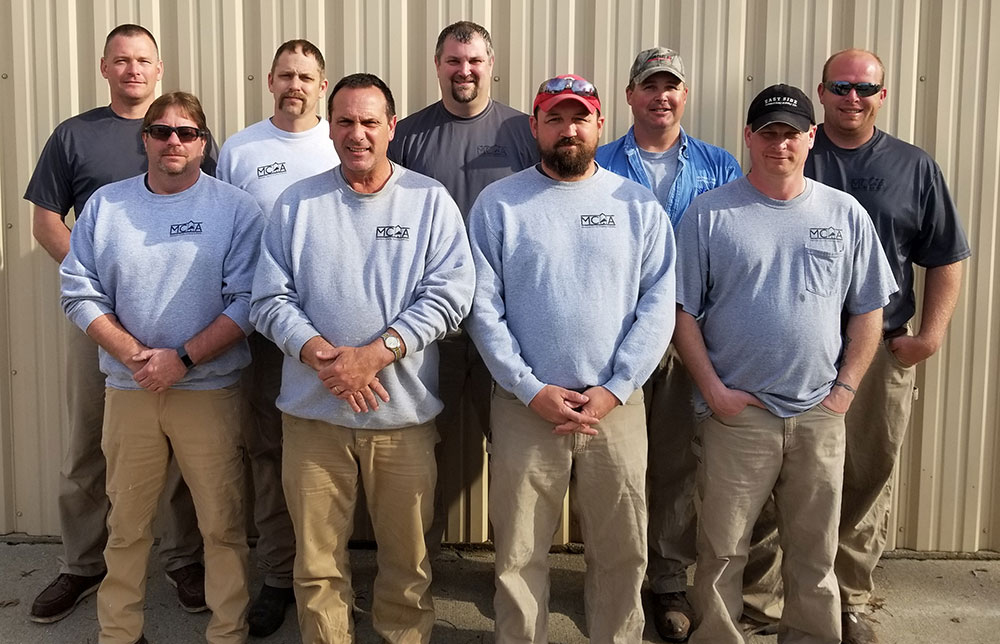 Maintenance Mechanics
Front Row: (left to right) Joe Boatman, Bill Emmons, Brian Miller, Eric Wallace
Back Row: (left to right) Jake Gregory, Jess McKee, David Qualls, Greg Joiner, Justin Thornhill
WHY CONSIDER MACOUPIN COUNTY HOUSING AUTHORITY OVER PRIVATE HOUSING?
Rental Assistance
Excellent Facilities
Decent, Safe and Sanitary
You have choice of rent
You have opportunity for input
Fun Resident Programs
24 hour on-call call emergency maintenance staff
A place to call home